NFT sales continue to soar. And with those climbing sales comes growing revenue. Most of today's NFT sales are still art or collectibles. The art world in particular, has long been tied to fundraising and philanthropy, so it follows that NFT revenue can (and should!) make its way into the hands of worthy causes.
At OIX, we know that creators are a group familiar with having to struggle for both recognition and financial stability. Creators tend to have a special place in their hearts for anyone in need. It takes someone who's struggled to sympathize with another person's (or group's) tough situation.
We've all watched some extremely unpleasant situations unfold in recent years. Whether something is going wrong in your backyard or halfway around the world, the urge to help is strong. And sometimes the only thing we have to offer is a donation.
Express Your Priorities
What better way to draw inspiration for your next creative work than to think about the causes that matter to you most. If you're a creator searching for the motivation to create something new, filling that mental void with your favourite cause could make all the difference – for both of you.
Using imagery relevant to your charity can both fuel your creativity and help with the visual branding required to connect bidders to the cause for which they're potentially making a donation. The details will vary depending on the subject matter and your organization's existing imagery or branding. Think of it as a collaboration that benefits something truly meaningful to you.
Of course, you always have the option to create what speaks to you, related in no way to your charity of choice, and then donate the NFT regardless. With tech this flexible, the options are many.
Consider the NFT below, auctioned by Vodafone last December to benefit UNHCR, the UN Refugee Agency. Although a physical acrylic and mixed media version exists, the NFT is a digital animated replica of the world's first SMS sent and received on December 3, 1992.
We love that the project below not only commemorated an important moment in technology history, but also prompts further discussion about what we consider 'art' going forwards. In the context of NFTs and digital assets in online galleries, this dialogue is as relevant as it is critical.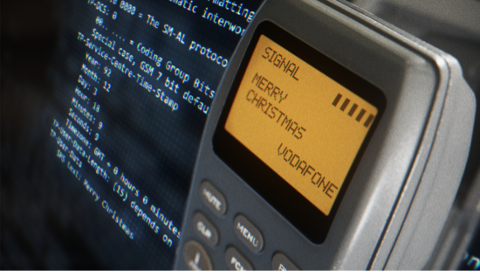 Donating All Kinds of NFTs
Let's circle back to the collectible NFTs mentioned above. These are things like digital sports cards or game clips, and memorabilia imagery. But it's important to remember that so many digital items can and will be NFTs. And if you've done fundraising on behalf of a charity, you know that people donate all kinds of things. A huge range of things you would give or accept as a donation to be auctioned off at a fundraiser could be minted as an NFT first.
Concert tickets, season tickets, subscriptions, music albums, content libraries, avatars, skins, assets, and more. As events move into the Metaverse, the exclusivity of selected performances or virtual spaces will be a real thing. And in this future, donating a ticket or an avatar will have genuine value.
An NFT can contain unlockable information as simple as a password to a Zoom call – which just happens to be with a popular celebrity or a sought-after coach. And in a post-covid world where we've all adjusted to, even come to value, personal space and barriers of distance, turning a hangout or a pick-your-brain meeting into a video chat could be more desirable than anyone ever anticipated.
Classifying Your NFT Donation
Expanding a little more on the kinds of NFTs out there, we want you to remember there are two main benefits: novelty and utility. Is your NFT donation one that its new owner will show off, proudly claiming to own? Or is your asset a means to an end, like a ticket or password?
It's this latter classification that could dominate the landscape as the NFT world expands. Currently, most people (albeit, those in the loop) familiar with NFTs associate the term with art and collectibles. And that's the novelty side.
Utility-based NFTs are set to break open our understanding of the term. Which is bound to frustrate and confuse anyone still getting a handle on the original iteration of NFTs. If you plan to attach a token to a digital ticket, password, or other form of exclusive access, be prepared to explain the concept as much as the actual event or service being donated.
NFTs and Minimalism
Donating a physical item, while still appreciated by most charities, comes with an evaluation of value beyond dollars raised. As our world grapples with consumerism and the drive to acquire 'stuff', the donation of an NFT, particularly of the utilitarian sort, can be promoted as a move towards experiences over things.
While promoting your NFT donation, remember to mention that the very nature of both digital content and an experience-oriented item, contributes to a higher quality of life and a simpler lifestyle. The mental image of a calmer, less cluttered personal space or work space has value in itself.
The more desirable the service, session, or meeting, the more important blockchain-based security is for all parties involved. After all, someone bidding on a private call with a leader like Gary Vaynerchuk is going to want to know that their dollars paid for the real deal, and true one-to-one access.
One Egg in a Fundraising Basket
It's exciting for everyone in the NFT world to hear stories about the runaway success of an initial offering. We read and hear about NFTs that sell for millions right out of the gate. But we know that realistically, the first sale of an NFT is more likely to raise hundreds than millions.
Since every little bit helps for a charity, every dollar from the proceed of an NFT sale will be helpful. It's just important to remember that an NFT won't replace a year's (or even a season's) worth of fundraising in most cases. Anyone donating an NFT should be setting reasonable, responsible expectations. And then a pleasant surprise will be just that.
Keep in mind that your NFT donation may be tax-deductible, depending on the tax laws in your country. And in cases of a tax deduction, you may be able to donate a larger amount to your charity. Rather than liquidating the proceeds of an NFT sale (which would be taxable income) you're contributing the full amount.
3 Paths for Donating via NFTs
As a creator, the first and most effective option for anyone wishing to raise funds for a charity is to donate the NFT itself. And by that we mean creating the digital file and either minting in a charity's name or handing the asset over to the charity and allowing them to mint it.
However, artists who may not be able to justify donating an NFT that took days or weeks to create may wish to simply donate the proceeds from the first sale, but retain the royalties going forward. The more notable the creator and/or charity, the more likely the NFT is to be resold.
And as soon as OIX supports split payments, which it will, the reverse is possible, donating royalties only while retaining the funds from the initial sale itself. This is a fascinating option as we continue to get a sense of an NFT's potential to stay in (or reenter) the spotlight in growing collector circles. NFTs have the potential to literally keep on giving over time.
OIX will allow our users to designate how funds are distributed, making it easy to portion off some or all of a sale or royalties to the charity of your choice. This also means that, in the near future, multiple creators and/or multiple beneficiaries can own and profit from the NFT. Perhaps two artists in different cities collaborate to benefit a national organization and funnel profits to their respective local chapters. The flexibility is there with NFT donations – if you choose the right marketplace.
The NFT Marketplace that Gives Back
Giving back to our community of tech enthusiasts, artists, and virtual disruptors is a priority at OIX. Philanthropy, in general, has huge importance for our whole team and we are proud to be building a platform that helps us live our values on multiple levels.
We know the capacity to give back is important to each and every one of our users. And that as a decentralized marketplace, OIX is attracting creators who want to live their values too, not only expressing themselves and sharing what they love but making a difference while they do it.
The social aspect of OIX makes philanthropy more effective – and fun! Giving your contribution to your favourite charity the chance to be as successful as possible.